Plan A Projects
Agile Project management

Courses with certification

Coaching on your project

Agile Project Methodology
Get an international certification in Agile Project Management
Next course date 30th november – 2nd december 2016
Learn more and signup here
What we do
Plan A Projects offers project method, courses and coaching in agile project management.
AGILE PROJECT MANAGEMENT
Projects on time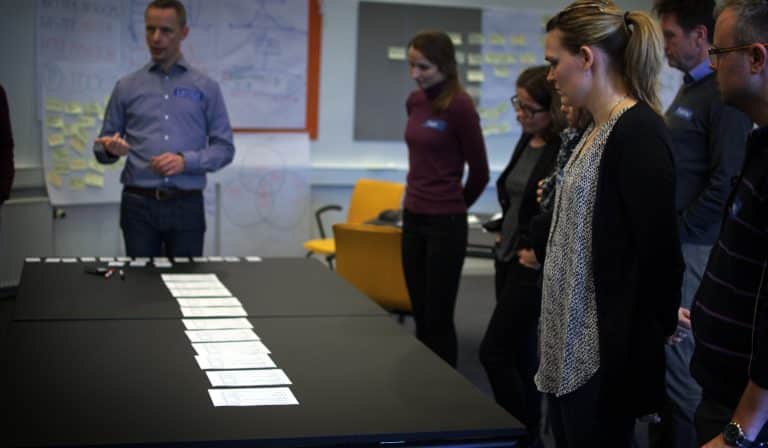 We have implemented about 30 customised versions of our methodology at our clients' organisations and helped their project managers proceed to create what we would consider fantastic results.
All but one of our projects are characterised by being extremely complex. In spite of the fact that the projects range from anywhere between 500 to 65,000 hours, and with budgets from a few hundred thousand Euros to millions of Euros, NONE of our projects have ever missed their deadline. Two projects were completed on time and the rest have been completed between one to four weeks before their deadline or are still in progress. It's something our customers appreciate and something we're proud of.
Are you considering making your next project an agile one? Plan A Projects offers advice and coaching for project managers, steering groups and team members involved in large agile projects.
Cases

Testimonials from our agile projects and certification courses
"We didn't have any organisational knowledge of the agile methodology, so we needed someone to train us.

It's been a very large and complex project, in which Lasse has without a doubt exceeded our expectations.

I respect people who can walk the talk. Lasse's one of them."

– Sune Slemming, Arla

"Plan A Projects has been able to uphold the momentum from start to finish. 

Plan A Projects' involvement has meant that I've been able to focus 100% on being responsible for the deliverables without having to worry about whether the staff were working in accordance with agile principles."

– Winnie Thorgaard, IBM

"Lasse's a fantastic agile coach. He's been the agile expert on this project and taught us all about the methodology.

Lasse has a huge amount of expert knowledge, but his best quality is probably his infectious enthusiasm."

– Tom Bloch, Arla

"Lasse was the agile mentor and did a great job.

In particular, it was good that he was always easy to get hold of, and that he constantly followed up on the individual teams.

If there were any problems, he helped us solve them so that we could move forward."

– Abhishek Sharma, IBM
Plan A Projects courses
Courses in Agile Project Management and Rhetoric
Blog
News from Plan A Projects

Plan A Projects is once again proud to find itself among the 2% of Danish companies which have achieved a AAA rating. In order to achieve a AAA (Triple-A) rating, companies must be particularly good at fulfilling its current payment obligations. We ascribe particular importance to a good credit rating at Plan A Projects because […]
Plan A Projects has just held a three-day certification course at Dansk IT. The course was fully booked, with participants from employers such as Danske Bank, KMD, Vestas, DONG Energy, Chr. Hansen, Nordea, SKI and Bankdata. We are very proud that the trainer, Lasse Sørensen, earned overall 5 out of 5 points for his knowledge, […]
"We have held a specially adapted theme day with "Happy Projects" here at Alm. Brand for our most experienced project managers. The day turned out to entail a great combination of new tools and input, discussions and exchanging of experiences, all of which was facilitated through a number of exercises and with lots of enthusiasm. […]
Newsletter

Receive news from Plan A Projects

Sign up for our newsletter
With Plan A Projects' newsletter, you get some of the latest news within agile project management, real-world cases, information about upcoming courses and events as well as tips and pointers on how to make your daily work more agile.
Let's meet!

Would you like to know how we can help your project?