Agile project management that works – with international certification administered by DSDM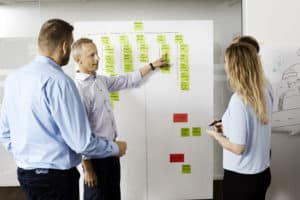 Agile Project Leadership course leads to the certifications "Agile Foundation – Team Leader Focus" and "Agile Advanced Practitioner – Team Leader Focus"
Have you heard of agile projects or Scrum teams that just do not live up to expected benefits?
Or that the agile project methodology is not suitable for large projects?
We've got Agile Project Management to work in a large scale projects and we would like to teach you what it takes. We can teach you about and prepare you for the internationally recognized certifications developed and managed by DSDM in England. Read more here. 
Would your friend, neighbour or colleague like to join our Agile Certification courses? If you recommend a person to our courses, we offer a 10% discount on courses pricing for each paying course participant you recommend.
See what others say about Plan A Projects courses
Date and time
Date: 1st – 3rd September 2021
Time: 9:00 – 17:00
Would you like to learn more about this course? Please use the form below