As one IBM's top three project managers, Winnie Thorgaard held the overall responsibility for the deliverables from IBM's staff. She felt it was a great relief to be able to focus on that role while Lasse Sørensen from Plan A Projects took care of ensuring the project stayed agile.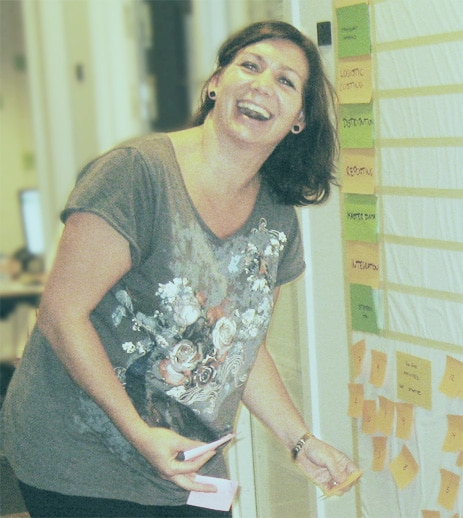 "Plan A Projects has been able to uphold the momentum from start to finish," Thorgaard said.
"When only two employees out of 75 had any prior experience with agile projects, it was no small feat convincing the remaining 73 that it was a good idea and to stick with it.
It's one thing to visit and present some theories on how to go about things, but Lasse has also been extraordinary at showing how to put theory into practice. I am sure that there wasn't a single employee who still couldn't see the advantages of the methodology by the end of the project."
STRENGTH IN PERSISTENCE
For my part, Lasse's involvement has meant that I've been able to focus 100% on being responsible for the deliverables without having to worry about whether the staff were working in accordance with agile principles," Thorgaard continued.
"At certain parts in the process I myself was tempted to take a few shortcuts, but then Lasse would be there, asking me if I really thought that was a good idea. The fact that he's persistent is definitely one of his great strengths; he sticks with it to ensure that things begin to slip.
A GOOD SOUNDING BOARD
"Lasse has also been very useful as a sounding board when certain individuals in the project were not performing optimally within the methodological and project frameworks. In those instances, we would have a talk and arrived at different conclusions on how to solve the problem. Lasse is far more of the coaching type than I am, and he has been very complementary to my somewhat tougher management style because he is great at making people realise themselves what they need to do and why."
FROM THEORY TO PRACTICE
Halfway into the project, when Lasse's role switched from agile coach to Scrum Master, Thorgaard observed an interesting attitude change among the employees: "When he was the agile coach, he was going from team to team, ensuring that everyone was following the methodology. Some of the staff probably found that irritating and thought that it was easy enough for him to lecture them on how to do things when it wasn't him who had to actually do it," Thorgaard laughed. "But when he took on the role of Scrum Master on one of the teams, he really got the chance to show what it was all about."
DELIVERED ON TIME – WITH NO OVERTIME
"That team had almost ground to a halt, but he still managed to get them to the finish line with no one having to work extra hours," Thorgaard continued. "He helped them by breaking the tasks down to as detailed a level as possible, leaving no room for loopholes, and then he engaged with each one of them and got them to commit to the process. Once they set their own goals for how and when to finish what, they got a completely different sense of ownership, and Lasse was incredibly systematic in following up on each individual's progress. It is largely thanks to him that that particular team succeeded!"
INFECTIOUS PASSION
"Our collaboration with Lasse has been faultless. Firstly, his infectious enthusiasm and honest, confidence-inspiring personality makes him easy to work with, and he always does what he says he will. Furthermore, he is incredibly well prepared and has an enormous theoretical toolbox, from which we all have learned a lot in practice. Yet one of his greatest strengths is probably that he is so passionate. You can really sense his conviction in this methodology, and it rubs off on everyone around him," Thorgaard said.
Would you like to as Winnie Thorgaard and get an agile coach on your project? Contact us here